Did you know that gaming in VR can double as exercise? Kill two birds with one stone and game in VR with these 5 games for optimal exercise in virtual reality. 
These games will make you sweat—they're also great games in general, and fun to play whether you're looking for a workout or not. Working out in VR gives you the best of both worlds—or should I say—both realities.
The Top 5 Workout Games in VR
        1. Supernatural
If you haven't seen Supernatural's promotion video on their site, it's pretty epic and gives you a solid idea of everything you get with Supernatural in VR. You get a subscription to Supernatural for $18.99/month or $179.99/year, there's also a 30-day free trial available.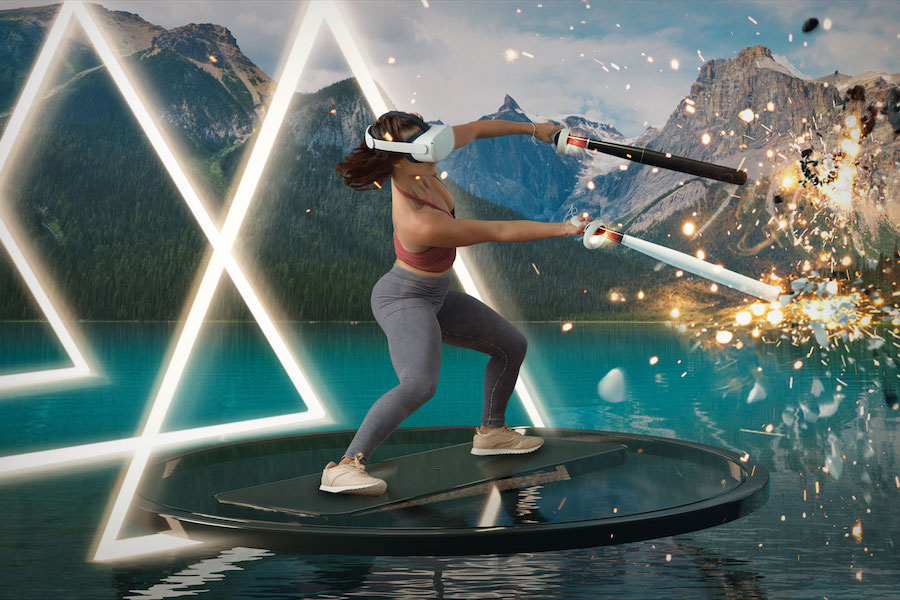 Supernatural has been described as a 'fitness revolution,' they're exercises that get your heart pumping, while also being fun and strangely addictive. You get to choose the way you workout—which is an innovative approach to working out in general. Supernatural's workout routines includes boxing, a full-cardio workout called Flow, meditation, and workout recovery routines.
They have over 500 workouts available, and you get one-on-one coaches from expert fitness trainers. So, despite the subscription not being the most affordable, when you consider everything you're getting—it turns out it's actually a pretty good deal.
      2. Beat Saber
Beat Saber is one of the best games available in VR, period—which is why we included it on our list of the Top Oculus Quest 2 games to check out. Beat Saber also makes for one of the best ways to workout in VR.
The setup of the game itself is pretty basic. Your job is to slash through the incoming blocks with the light sabres you're equipped with. The goal is to hit the blocks along with the beat of the music—while also avoiding the walls that are coming at you by dodging and bending.
It's definitely not an easy game, but it's one that is fun to play and can easily be a full-body workout—if you put the effort in. It's beginner-friendly, so you don't need to be an experienced gamer to get the hang of it. Keep in mind, that doesn't mean it doesn't take skill to pass the expert levels.
     3. Fit XR
Fit XR is another virtual reality workout subscription service, and it costs $9.99/month. They have different workout routines to choose from like dancing, boxing and HIIT workouts.
The workouts feel like arcade-style games, but they get you sweating and your heart pumping. New workouts are released daily, and they have a wide selection of workouts available. Fit XR plays great music, the environments are varied and scenic. Despite the monthly cost, you do get a lot with a subscription to Fit XR.
      4. The Climb (both versions)
The Climb is available to play on both the Oculus Rift and the Oculus Quest 2. Crytek (the developer behind The Climb series) did a great job capturing in VR the skill and challenge of physical, outdoor rock climbing. The views in The Climb are stunning, and if you have a fear of heights, this is a great way to try and overcome it.
        5. VZ Fit             
VZ Fit is a great way to spice up your at-home workout routine in VR, and it's perfect for anyone that likes biking or spinning classes. VZ Fit lets you choose the location you want to bike in, you just enter in the coordinates or choose the city you want—bike around the roads of Tuscany from the comfort of your living room.
You have the option to choose from their free membership, which gives you limited access to the features in the game, or for $9.99/month you can purchase a premium subscription and get full access to everything VZ Fit has to offer.
Let us know if you've tried any of these VR workouts, and if you have any other killer VR workouts you'd recommend for us to check out!