It's 2022, and we're stoked to see what's around the corner with the next generation of VR.
VR gaming is only getting bigger, as tech continues to develop and more headsets are being released. With new systems being regularly being launched, each new VR system claims to give increased functionality and deeper immersion in your gameplay. 
If you're looking for the best VR headset available on the market right now, the general consensus is that Facebook's Oculus Quest 2 is the best all-around headset available for your money. 
Coming in at a market price of $549.99 USD, it's definitely not a cheap product, so you'll want to make sure you've done your research before purchasing. Numerous brands have since launched their own VR headsets, and they all claim to provide the best gaming experience for VR right now. 
Let's take a look at what's up and coming in the VR industry, and which products are getting the most consumer hype and attention. 
What's up and coming in the world of VR?
When it comes to deciding the best overall headset for VR, Facebook's Oculus Quest 2 still tops the list by a long slide. The experience that the Oculus Quest 2 gives is unparalleled; and it's a noticeable improvement on the previous iteration, the original Oculus Rift headset.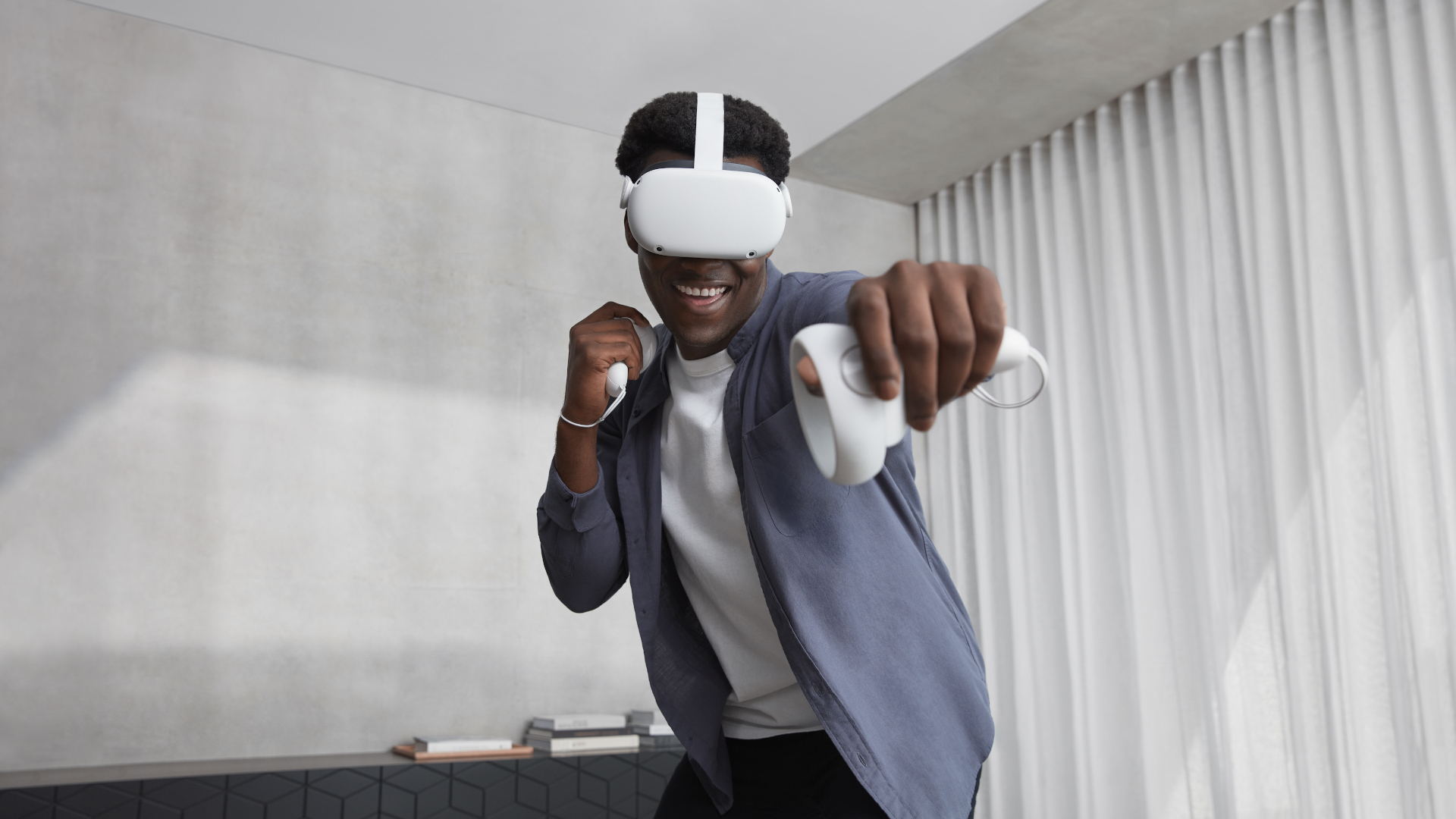 It's worth mentioning that the original Oculus Rift is no longer available for purchase on the Oculus site, so if you're interested in purchasing an Oculus headset, it'll have to be the Oculus Quest 2 (unless you want to purchase a used Oculus Rift system at a discounted price.) 
Facebook made an announcement that they'd plan to stop selling the Oculus Rift S in 2021. So, if you really want to get your hands on the older system, it's going to be tough since they aren't creating more units or replenishing their stock. 
Luckily, there are still tons of systems to choose from, and most of them are now better than the tech included on the original Oculus Rift S headset. The Oculus Quest 2, as I've mentioned, is a great option: it's comfortable to wear for longer gaming sessions, the game and app library have close to 300 options to choose from, and it's easy to use and install. It's also lighter than the original, which makes a difference when you've been wearing the headset for a while.
The HP Reverb G2 Virtual Reality Headset is another locked and loaded popular headset on the market available to purchase. You can buy this headset off Amazon, and it's only $939 USD…this is an astronomical amount to pay for a VR headset, especially since Oculus's version is considerably cheaper. That said, if you check out the customer reviews for HP's Reverb G2 VR headset, people seem pretty happy with their decision to buy the headset, despite the price. 
Customers left reviews on the Reverb G2 headset saying that they're thoroughly happy with their purchase and that it's a substantial upgrade on the original HP VR headset. If you didn't know, the Reverb G2 headset was a collaboration between Valve and Microsoft and a follow-up to their initial VR hit, the Reverb VR headset.
The release of the Reverb G2 shows that companies are listening to consumer criticism and that they will modify the product to meet consumer demands and desires. The controllers have been redesigned to enhance comfort and they've gone ahead and expanded their ecosystem, as per consumer demand. 
The G2 Reverb is also equipped with Vavle's premium quality spatial audio speakers. When it comes to deeper immersion, high-quality audio is everything. This is why HP and Microsoft collaborated with Valve, and its impact is significant. You can read more about the audio engineering for the HP Reverb 2 on Valve's website. It's an interesting article and they go into tons of details about what went into creating their enhanced audio speakers.
Sony recently announced at the Consumer and Electronics show in 2022 that they'd be releasing their PS VR2 headset at the end of the year. In a PlayStation blog, Sony gave a first-look at the soon-to-be-released headset. They describe the headset as having a circular "orb" (an orb is just a spherical globe) look to it, and based on the product images we can confirm that this appears to be true. It's got a very sleek, future-tech look and feels to it.
The PS VR2 was designed to match the style of the new PS5 console and shares similar physical features like white, smooth flat edges. As much as it's a gaming system, it also looks pretty cool as room decor and probably makes for a great conversation piece.
PlayStation says that they've designed the new release to be more ergonomic, which essentially means it's built for maximum comfort and optimum use. They've increased comfortability by doing extensive testing for different head sizes and enhanced the adjustability of the headset band. The new release will also come with an adjustable scope, which will allow you to adjust the scope so it's either closer or further from your face (whatever your preference is.)
Another cool feature of the headset is the built-in ventilation that will release air and defog your lenses! This is huge because it will prevent the lenses from fogging up while gaming, and force you to pause the game to de-fog midway.
PlayStation is a leader in the industry for a reason. They take their gaming systems seriously, and they listen to their customer's feedback. Based on their official blog post talking about the PS VR2, it looks like the next generation of gaming in VR is going to continue to skyrocket.